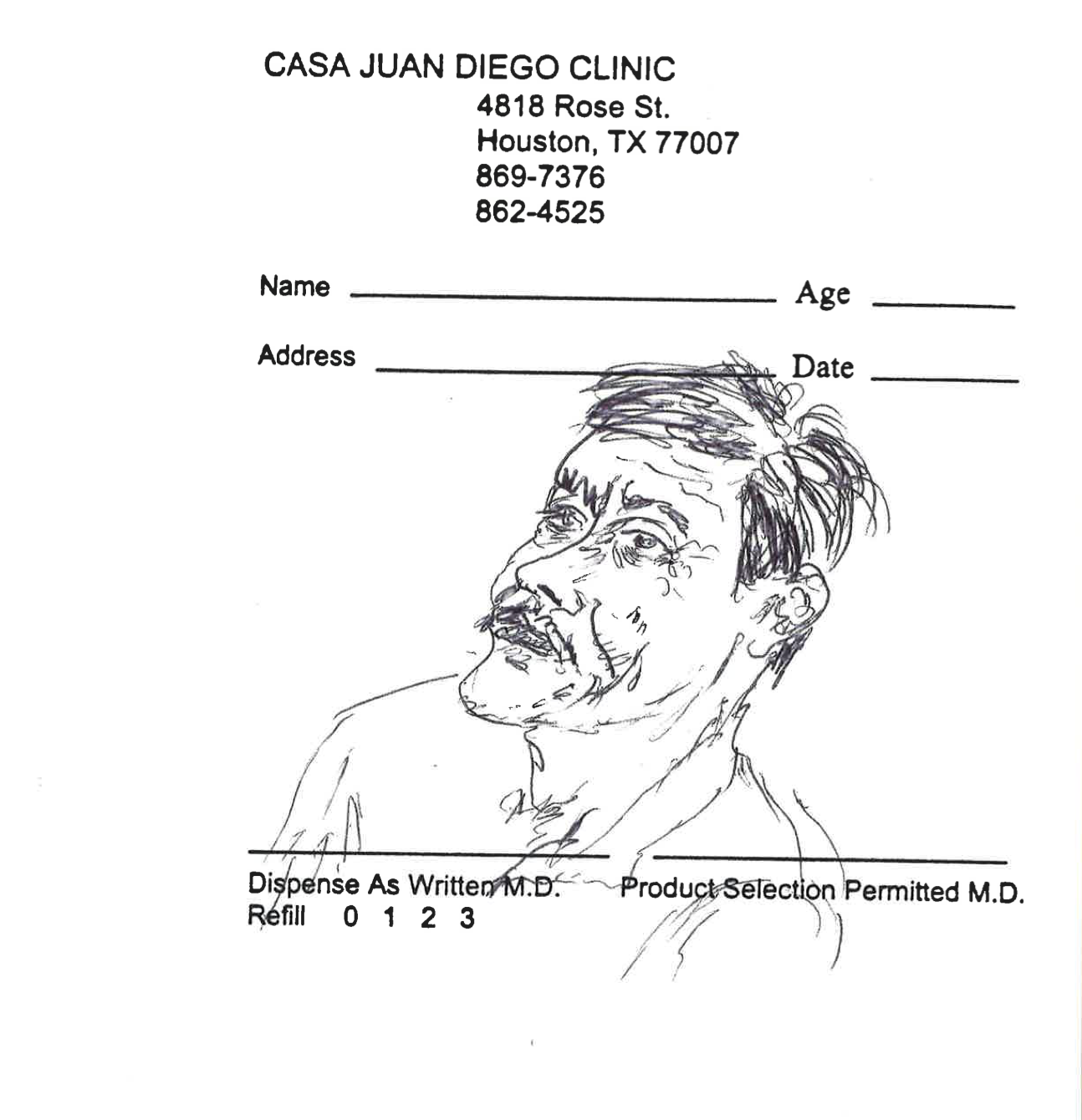 Alan Blum
About the artist:
Alan Blum is a professor and Gerald Leon Wallace MD Endowed Chair in family medicine at the University of Alabama School of Medicine in Tuscaloosa. A self-taught artist, he has published three books of his sketches and stories of patients, and his artworks have appeared in more than a dozen medical journals and textbooks. Many of his sketches have appeared in Pulse. He is a frequent guest speaker at medical schools in courses in the humanities.
About the artwork:
Alan Blum shared the experience of being in the clinic with his associate physician, Marsha Holleman. She had the following to say about that time and about his sketches.
"Casa Juan Diego is a Catholic Worker house of hospitality, serving new arrivals to the US and Houston, mostly from Latin America. Inspired by Dorothy Day, Mark and Louise Zwick opened the shelter in 1980 and set a tone of friendliness and solidarity, gentle helpfulness and total commitment. 
The residents of Casa Juan Diego have generally completed a dangerous and difficult journey, and they usually stay for a few weeks or months as they gather their wits, rest and regain strength, attend to medical needs, learn English, pray and figure out what's next. Although their situation is quite unsettled, volunteers are often struck by their optimism and resiliency.
Alan Blum and I volunteered at Casa Juan Diego's medical clinic during the 1990s. He often said that he sketches his patients in order to better care for them medically–he gets a closer look at their faces and a deeper sense of their personhood. Alan sketches on whatever paper is handy. Most artists prefer canvas, but Alan generally grabs a prescription pad.
The result is transformative. Rather than being just another immigration statistic, or being labeled by their disease, Alan's patients are real people with interesting faces, and these faces tell a compelling story."
Visuals editor:
Sara Kohrt